Baba has a quick catch up with the UK's hot boy - Jay Sean who is killing it right now...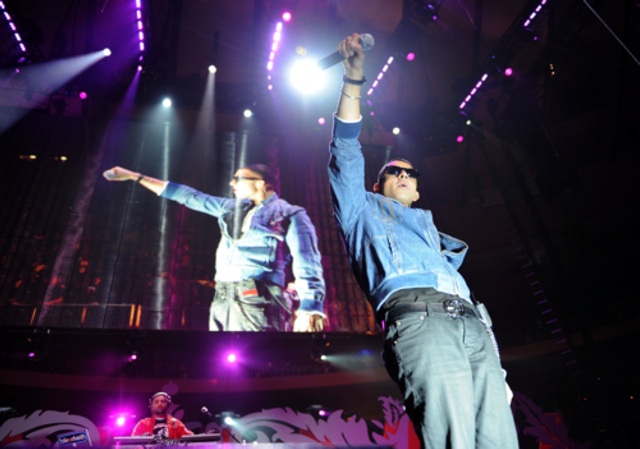 TWU: How did you get your start in the industry?
Jay Sean: I started by song writing and putting out demos and one of my demos managed to fall into the hands of a producer called Rishi Rich, he already had a bit of a name in the music industry and he knew people. He loved the song and we started working together. One of them really blew up, a song called "Dance with you" ended up getting me signed to Virgin records.
TWU: So what was the main thing that made you want to get into this industry?
Jay Sean: I loved writing songs and raps. I started off just writing raps when I was like 11 years old and then those raps I would put melodies and eventually I started writing songs. It was really that, that got me into it. I got the buzz and the bug for it and being able to write and being able to sing and perform gave me even more joy.
TWU: You said you started mc'ing, would you ever go back to that now?

Jay Sean: Man, I don't know, probably not, just because I don't want to confuse people, I don't want people asking, "is he a singer, is he a rapper, what is he because he definitely isn't grime" and all that. The only time I ever rap is when I get a little drunk and then I'll do a little freestyle.
TWU: Don't you think you could do a Drake style thing?

Jay Sean: Ye, I've done a couple of joints like that actually with Cash Money, songs where I write them as a raps then I'll put a melody to it and make it into a song.
TWU: As the originator of the RNB/Bhangra fusion, do you think you'll go that way for any tracks on your next album?

Jay Sean: I don't think so bro, I mean unless it really works, I mean there are certain songs on my album which have certain ethnic sounds to them, songs like 'Ride it', songs like 'Stay' they all have instruments which sound eastern. I take sounds that work in my music and as long as it sounds organic its cool, I just don't want to force anything.
TWU: You've done a lot of collaborations in your time, is there anyone in particular you want to work with?
Jay Sean: Hell Yeah! Definitely! Jay Z and Beyonce are the ultimate, I know that's being extremely greedy because one of them would be enough but you've got to dream. I asked Jay-Z last time I saw him "I was like come on man lets do this, me, you and B and he was like yeah ok…..maybe one day. He knew I was taking the [mick].
TWU: How did the whole Cash Money thing come about? Was it planned or did they just hear you?

Jay Sean: It wasn't planned. They heard me and they saw what I was doing. A friend of mine who actually produced 'Down' and 'Remember' they produced half the album, their name is "The Orange Factory' in New York. They had done some work for Cash Money before and then they were on the the phone and you know 'Slim' from Cash Money the CEO was like "so what else are you working on" and they mentioned me. Next thing you know he has googled me, listened to my songs, checked out all my videos. And he called back and asked if I had a deal in the States which I didn't. A little bit later they called me up and there I am on the phone to him, the boss man himself and he said to me "Ive just checked out all of your stuff, why are you not here in the States?" and I was like " I don't have a deal in the States, then he was like "Come we go breddrin!"
TWU: Your single 'Down' went to number one in the USA, it blew Black Eyed Peas off the top spot but only reached number 3 over here. Why do you think that was?
Jay Sean: The X-Factor got in the way.
TWU: You think that's what it was?
Jay Sean: It definetly was. That week it would have gone number one but that week Cheryl Cole and Westlife both did X-Factor performances the week before it came out, but everyone knows about the X Factor effect.
TWU: How does it make you feel that 'Down' was the successor to 'Candle in the Wind' as the biggest single by a UK artist?
Jay Sean: That's crazy, sometimes it blows my mind. Recently the label told me that 'Down' has had a total audience of two billion people across the radio.
TWU: That's a third of the planet man
Jay Sean: A third of the planet have listened to that song and that to me is a bit bonkers. Its coming up to quadruple platinum in America now. I guess it did alright…..Thank you 'Down'!

TWU: Can you tell us anything about your new album?
Jay Sean: Yeah man, its going to be ridiculous. You've got to remember that 'All or nothing' was meant to be 'My own Way' which is my second album but because I ended up putting so many tracks on it - it would have been silly to call it 'My Own way' So we called it all or nothing. Then of course we released it in America and people over here were like ' Why aren't you releasing it here' so of course we realeased it here. There are still a few tracks from 'My own way on it' stuff like 'Ride it', 'Stay', 'Cry' and 'Stuck in the middle' and there are ten other songs on it. Ive already staterd working on my fourth album.
TWU: Who are you really feeling at the moment?
Jay Sean: Outside of America……
TWU: Outside of Cash Money...
Jay Sean: Brand new Artist………well to be honest its probably outside of the urban scene. There is a lot of brand new stuff coming on. People I have been on the road with, people like 'Taylor Swift', 'Boys like Girls' and Justin Bieber. Justin Bieber, let me tell you that boy is ridiculous.
TWU: He won our MTV 10 for 10 (prediction of biggest new star of 2010)
Jay Sean: He is taking the world by storm, in America he is running things.
TWU: Last question, Valentines Day…what did you give and what did you receive?
Jay Sean: Well…..I bought a rather large present…..I gave a diamond watch and what did I recive…..ummmm.
TWU: This is a PG interview bro. Lets just use our imagination.
Jay Sean: [laughs]