Laura 'Hyperfrank' Brosnan recently caught up with one of the grime scenes most talked about MCs at the moment, 17 year old Maxsta from east London, exclusively for The Wrap Up!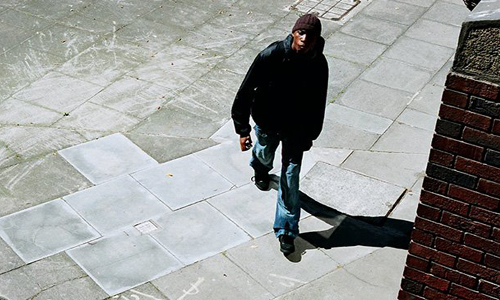 The Wrap Up: How did you get into music and what's your journey been like to get to this point?
Maxsta: It's been a rollercoaster to say the least, a lot of good times, some bad times, but overall it's been a good journey. I started off with a five pound microphone from Argos and a computer with some of my boys in my bedroom after school, so it's great to be here right now...
TWU: What were you listening to growing up? Who inspired you to actually make music?
M: Dizzee Rascal, Kano and Ghetts were my three favourite artists, but I listened to a lot of music when I was younger. I was into grime right from the start, the first grime CDs I bought were JME's 'Shut Yuh Mut' and Ghetto's '2000 And Life'. I feel like I fell in love with the sound right from the start, at the moment I can't go a day without listening to some sort of grime, even if it's just my own music.
TWU: You were in grime collective, Mucky Wolf Pack. What was the situation around you joining that crew instead of say, Nasty Crew?
M: The Wolf Pack thing was just to do with me hanging around Bow E3. I got introduced to the whole Wolf Pack team by having my music heard by the older lot like Gods Gift. I had to clash another MC on Roman Road which decided whether I was in or not. Thankfully I won because it was one of the moves that shaped my career. I'm from Newham so a lot of people ask me the 'why not Nasty Crew' question, but it's just a thing of not really having any affiliation with any of Nasty Crew, so even if there was a chance of it happening, which would have been real cool, it just didn't.
TWU: So what actually happened to the Pack?
M: It got to a point where there were a lot of members, including Snoopy and Maniac, who had different ideas of what they wanted to do. I never actually wanted to leave, but at the time there was some confusion going on with Wiley and Wolf pack. By that time I had affiliations myself with both sides and didn't want to have to cancel either partnership so I had to go solo.
TWU: A lot of people including myself first heard of you when you called out Double S/Marvell in one of your lyrics. Why did that all happen?
M: I got a call from Jammer talking about 'Lord Of The Mics 3' and he asked me who I might want to clash. I decided Double S. Many people don't know this one, but Double S and I were meant to clash in 2007, when there was a little war season going on. Wiley rang me saying "Max, you want to clash Double S?" and I never back down from a good challenge, so I obviously said yes. The clash never happened, but I thought in 2009 I was ready to actually clash him and win. It kind of got out of hand because I weren't really feeling the way they dealt with the situation, trying to treat me like some little kid you know? But I came out of the situation with my ratings up, so thanks.
TWU: Is it all squashed now?
M: Yes, with Double S and Shocka anyway, those are the only two I've spoken to, not sure about the others.
TWU: Would you ever work with Double S/Marvell?
M: Why not? Hopefully there's no feelings caught on their side, because a lot of people would like to hear a Maxsta and Double S tune. At the minute though, the situation is like I'm saying Double, let's do a tune and he's trying to ignore it. That's the kind of stuff that gets me in one of my sending moods. Thankfully though, we're past all of that now.
TWU: Tracks like 'East London Is Back' saw you receive support from underground DJs, as well as 1Xtra and Radio 1. How does it make you feel that your music is being taken seriously despite you being so young?
M: It's a good feeling still. I try not to let any success get to my head and make me think any differently though. I'm on a mission and I'm not going to let anything distract me, everything that happens is all just part of the plan.
TWU: 'Skadoosh' was the first video you've been in which was featured on various music channels throughout the UK. What was the reaction from your friends College etc when that came out?
M: It was just a good way to promote myself and Dolla Da Dustman, I guess. Ghetts didn't have to do 'Skadoosh', you know what I mean? So I'm thankful also for the fact that I got to work with someone who is a legend in my eyes. It made me realise how much support I have, because there's hardly a day where I'm walking about where someone I know or don't know, doesn't come up to me saying, "I really rate what you're doing fam, keep it up," or something like that. On the other hand, I've got some stab wounds to show for it, which isn't going to distract me from my mission.
TWU: You're 17 right now and you've got the same buzz that Chipmunk was two and half years ago when he was also 17. What are your thoughts on Chipmunk? Has he sold out to pop?
M: I'm happy for Chipmunk still. It's great to see what people can achieve against all the odds. I knew Chip a year or so before the Eskibeat stuff even popped off, so it's good to see how far he's come. It's a pity he doesn't want to do grime anymore and he seems to treat the whole underground scene like scum, like he didn't come from here. I remember a bar of his saying, "If I get signed I will stick to grime and help out the kids," so it's mad for him to not stick to his word. He's sold out but at the same time it's his choice and no one else's. Good luck to him though.
TWU: How do you feel about the current state of grime?
M: I feel like it needs people like me and P Money who forget the rules and just keep it 100% grimey, otherwise the next generation are going to want to jump straight onto the pop star bandwagon you get me? It's not all good in the grime world right now, but hopefully with the help of people, just like yourself, we fly off soon.
TWU: Would you agree that grime is divided in a way of people who want to go mainstream and people who are just going with the flow and making good music?
M: Yeah most definitely. All you have to do is look around you, some of the people in higher up positions just do grime as their thing on the side. If they got into a studio session with a big producer like Timbaland, grime would be the last thing on their minds. It's sad, but I guess at the same time some people have to think about their own future. Try to make some money through music as well, but I'm in the position where I can flip the script and be as grimey as a public toilet.
TWU: Who do you think fits into the 'artists who want to go mainstream' category and the 'artists just making good music' category?
M: I'd put people like myself, Ghetts and Devlin in the category of just wanting to make good music, no matter what. I'd put Tinchy Stryder and Chipmunk in the mainstream category; along with Taio Cruz and all the other pop stars. People like Skepta, Wiley, Tinie Tempah and Bless Beats are doing both.
TWU: Tell us about what we have to expect from your soon to be released 'The Maxtape'...
M: Feature wise I've got people like Wiley, Mercston, Dot Rotten, Voltage, Stelf and Shrimpoz on there. I've got nothing but great producers such as the legendary Terror Danjah, Target, Danny Weed and Bless Beats. I'd say 'Back To Grime' is my favourite track, because I love grime so much, it's an emotional moment on there for me. Everything that's relevant to a young, east Londoner like myself. A quote that I always remember whenever I'm working on a tune is from Dizzee Rascal's 'Boy In The Corner' - "MCs better start chatting about what's really happening, because if you're not chatting about what's happening, where are you living? Where are you talking about?" That's it in a nutshell.
TWU: What else can your fans expect from you in the near future?
M: Since I finished 'The Maxtape' CD, I've kind of kicked back and not recorded much. However, I've been listening to all types of music recently so I can learn new things to use in my world of grime. I'm currently working and making tracks for my next project, which is basically a pre-album called 'Alfie G Russell'. I don't want to say too much, but keep up to date with me through my MySpace and Twitter.
TWU: Is there anything else you'd like to get off your chest?
M: I'm not arrogant. I don't think I'm too big or anything like that. I'm just a focused kid with a goal and drive; hopefully everyone will see that soon.
Maxsta – 'The Maxtape' is out March 29th
Stay up to date with Maxsta on MySpace and Twitter
Words: Laura 'Hyperfrank' Brosnan

Online editing: Joseph 'JP' Patterson