Us lot at The Wrap Up HQ wanted to see if 50 Cent could better his performance in Birmingham with his London live show. Nonny 'Misss N' Orakwue went down to investigate...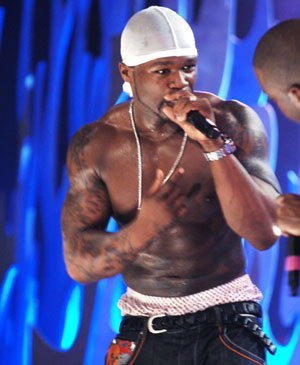 On Saturday, I braved my way through the usual crazy London traffic and rain to get down to Wembley Arena to catch hip hop entrepreneur and G-Unit front man, 50 Cent in concert. When I got to the venue (a bit late and wet) it seemed like the stewards didn't have a clue what was going on and directed me from one door to another. Anyhow, I eventually got the right directions and took my place in the standing area. I was quite pleased as I was quite close to the stage and not way up in the stalls.
As I looked around the arena I could see that it was bustling with a few thousand fans who had come out to see Fiddy, but it was by no means sold out, which was surprising as it was going to be his only London date. I was also quite surprised at how eclectic the audience was – I guess it just shows Fiddy's mass appeal.
I've been to lots of concerts before and I've never been particularly interested in watching the UK support acts that open for the big American stars, but this time was different. Skepta and Tinie Tempah were supporting Fiddy. Over the past year UK urban music has come a long way and produced quality acts as desirable and talented as any top US act. Skepta performed 'Duppy' and his latest single 'Bad Boy' and fellow Boy Better Better Know members JME, Shorty and Frisco joined him on stage for 'Too Many Man'. They really got the less than energetic crowd going. Tinie Tempah also gave the audience an energy boost when he performed his number one smash, 'Pass Out' (anyone would have thought it was karaoke night in there with all the singing that was going on).
Soon after the UK acts tore up the stage, a superhero-type video sequence and strobe lights started. The curtain dropped dramatically to unveil Fiddy standing on a platform. The crowd (and particularly the females) went nuts. Later his G-Unit buddies, Lloyd Banks and Tony Yayo took the stage alongside him 50 sent the crowd wild when he performed 'Baby By Me' and 'Do You Think About Me' from his current album, 'Before I Self Destruct'. It also helped that he took off his shirt to reveal his well-sculpted 6-pac, sending the females over the edge. Fiddy also performed all the classics like '21 Questions','In Da Club' and 'P.I.M.P' all with a live band, which added that extra special touch the show. Tony Yayo and Lloyd Banks got in on the action and also did renditions of their hits 'So Seductive' and 'Beamer, Benz or Bentley'. Not to be outdone by 50, Lloyd took off his shirt and performed in his vest.
At this moment, a 'giant' decided to stand in front of my towering 5'5" frame and block my view. Luckily, I managed to regain my view to catch Fiddy smash the show with his performance of 'Many Men' and 'Wanksta'. I love those songs. I still get chills when I hear them because they remind me of when I first heard Fiddy all those years ago. Overall, the concert was good and the atmosphere was great. 50 Cent performed loads of songs (I didn't even realise that his catalogue was that big) and really got the crowd hyped. The live band on stage also added a special touch to the whole event, but they really should think about making the experience a lot more interactive and edgy. I would definitely go to another Fiddy gig and next time I'll make sure I'm right at the front where no one can obstruct my view of the 6-pacs.
Words: Nonny 'Misss N' Orakwue

Online editing: Joseph 'JP' Patterson