Joseph 'JP' Patterson recently caught up with New York-based dance music producer, Chew Fu. Remember that infectious Wiley track 'Take That'? Well, he was the guy behind that and he can also call everyone from P Diddy and Justin Timberlake, to Lady GaGa and Rihanna clients of his...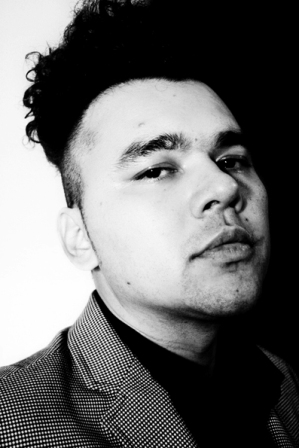 The Wrap Up: For those that have been living under a rock for the past 12 months, can you give us some history as to who Chew Fu is?
Chew Fu: Chew Fu is? The way you phrased your question reminded me of the old school "Love is…" comic strip from New Zealand artist, Kim Grove. That said, perhaps I should respond as my girl Kim would, here goes...
Chew Fu is: A 'Serial Fixer' who got his start by remixing, or as my team like to call it, 'refixing,' literally hundreds of songs unofficially and giving them away to DJs, bloggers and tastemakers on my way to getting the industry's attention and gaining recognition. No easy task, for real.
Chew Fu is: A super DJ and mega producer. I read that in my bio, so you know it must be true.
Chew Fu is: Forever indebted to the blogs like Palmsout, Discobelle, Sheana Beaston, White Folks Get Crunk, We Like It Indi and Hot Biscuits, to name a few. They were the ones who blew your boy up by posting hundreds of my refixes.
Chew Fu is: A lucky bastard who is fortunate enough to have produced for and remixed the records of some of the music industry's dopest, including Rihanna, Stone Temple Pilots, Lady Gaga, Usher, Mariah Carey, Justin Timberlake, Timbaland, Diddy, Kings of Leon, Doug E. Fresh, Greg Nice, 3oh3!, Marilyn Manson, Chamillionaire, Ciara and over 150 other artists currently on your iPod.
Chew Fu is: A believer that luck is no accident. It is the residue of hardwork.
Chew Fu is: The James Brown of music production, AKA the hardest working man in the game, according to my squad at Youngstar mbc. The fools in the office nicknamed me that, they got jokes!
Chew Fu is: A DJ who only spins his own productions. That don't mean I'm hating on anybody else's music, quite the opposite, it just means that I am trying to give the listener a truly unique sonic experience. It also means I had to produce a shitload of music and remix a record store's worth of songs to build a music library strong enough to support the vision my team and I had.
Chew Fu is: A classically trained musician with a passion for hip-hop, progressive and dance music who happens to produce, remix and DJ, as opposed to a DJ who happens to produce and remix.
Chew Fu is: Striving to be your favourite producers, favourite producer.
Chew Fu is: Not Chinese. Not that there is anything wrong with that. Shout out to my peeps in Shanghai, Hong Kong, and Shenzhen. I will see y'all next month, shameless plugs.
TWU: Growing up, who would you say influenced you to get into making music?
Chew Fu: It's gotta be my pops. Deep down inside, I am still that little boy who couldn't get enough of listening to his dad's extensive vinyl collection. If my childhood had a soundtrack, then my pops would have been music supervisor. No banging on pots and pans at my crib. My brothers and I would be jamming along on congas and bongos to salsa and other music blaring in the background. Lord knows how my folks tolerated the noise early on before it evolved into music, but they never discouraged us.
TWU: When did you actually realize that you had a talent for making music?
Chew Fu: It wasn't until I was about 14 and I started playing the alto-sax in high school. My sax teacher saw something in me that I didn't initially see in myself and explained to me that if I focused and worked extremely hard I could attend the music conservatory and study jazz. I was at the time and still am a huge Jazz fan. That conversation really opened my eyes to possibilities, shortly thereafter with an added dose of grind, I got accepted into a pre-conservatory program and started rocking that while simultaneously attending high school. I went on to attend the conservatory of music where I studied jazz and earned myself a Master of music Degree under jazz legend, Piet Noordijk.
TWU: New York is one of the homes of hip-hop. Has the local hip-hop scene in New York inspired your work in anyway?
Chew Fu: Hip-hop remains the foundation on which my music is built. We call the brand of music I produce 'future-perfect.' Future-perfect essentially cherry picks the best elements from all the genres that we love: hip-hop, rock, soul, electro, progressive, pop, and of course dance, but at its base you'll find strong hip-hop influences. I got my start in hip-hop by producing music for none other than your boy Diddy. The hook-up came through my business partner John Frazier AKA Onefraz, who gave me the opportunity to produce a series of mix CDs under the name 'The Next24'. 'The Next24' was a CD series that featured exclusive performances by no less than 24 of today and tomorrow's hottest artists, from Fabolous, Ghostface, 112, and Mary J., to Justin Timberlake, Coco Brovaz, The Neptunes and Kelis and all the hot new artists on the come up. What's bananas is that I produced the entire CD, providing original production and remixing other tracks. 'The Next24 'was a really groundbreaking CD, because it was sponsored by Fortune 500 corporations. Millions of copies of the CD were manufactured and distributed, instantly putting me on the map. It was a project that really jumped things off.
TWU: What was it about dance music that really caught your ear and made you want to go down that route?
Chew Fu: Not sure if you are old enough to remember Nells, the club on 14th street? All it took was one night out as a teenager dancing with a girl from NYU and seeing the look on her face when the DJ dropped her favourite dance joint. I'll never forget the way she got lost in the music, closed her eyes and raised her hands, man, I was hooked. My entire purpose in life from that point on was to inspire a similar reaction in women and all the people who love women, which on last count was everyone.
TWU: I first came across your work when you teamed up with the godfather of grime Wiley for the track 'Take That'. How did that collaboration come about?
Chew Fu: I got to credit John Woolf, one of Wiley's people, with giving me a heads up that Wiley was looking for new tracks. Basically, it went down just like Wiley explains in the song: "I phoned Woolfy, Woolfy phoned Chew Fu, Chew Fu phoned right back and said Take That." John has been very 'dat dude,' he showed me all kinds of UK-based talent. I shot some new music over to Wiley, he heard the track, which comically was the same track I had sent to his former label months earlier, the label passed on the track; they never played it for Wiley. Thank God I'm hard headed and have a hard time taking no for an answer. A couple of days after receiving the track Wiley had laid down killer generously simple lyrics and I took it from there. Wiley is a special cat, Godfather indeed.
TWU: What are your thoughts on the UK grime, dubstep and funky scenes by the way? Are you a fan?
Chew Fu: I'm a fan. There is so much talent in the UK it's incredible, producers go all out in their attempt to give you a 100% sonic orgasm. With grime and dubstep the producers pay attention to detail, which I like. Listen to the effects they create for more insight into what I mean. The music is not just about dope lyrics and melodies, it's full of other surprises, and every song tries to give the listener something unexpected. It's exactly what hip-hop in the US is not. Grime and dubstep push the envelope; they are unpredictable, similar to what I do on my own productions.
TWU: Do you like what David Guetta is doing with the whole hip-hop/R&B/dance crossover? And could you ever see yourself doing something like that in the future?
Chew Fu: You are kidding me right? [Laughs] I understand the confusion, but the records will show that I released more than 70 hip-hop/house crossover joints before Guetta released that record. Ask your boy, he'll tell you. He and a lot of other cats that were spinning my mixes in their live sets and on radio, but don't get me wrong, I ain't hatin', the dude stupid talented, but be clear, I was the fires to land on the Moon and plant the future-perfect flag. Mixing hip-hop with house is the very thing that gave me edge on the blogs and was the reason people posted and re-posted so much of my music. I believe Kissy Sell Out was one of the first in the UK to pick up that crossover sound and christened one of my refixes, 'Sunglasses At Night' featuring J-Cast. That was huge, shout-out to Kissy. My upcoming solo album is a future-perfect crossover fusion of hip-hop and house. I feel like Dr. Frankenstein, 'cause I have been working on it and secluding myself in the lab for over 2 ½ years and have almost three albums worth of songs completed with artists that complement my music like my boy Doug E. Fresh, Wiley, Chamillionaire, and Greg N.I.C.E. I also have a lot of appearances from artists, that if you don't know now, you will know shortly, with names such as J-Cast, A-Clay, Substantial and Lee Majors. I can't wait to release it so it can terrorize the music scene. It's a monster.
TWU: You were recently asked by Rihanna to remix her 'Rated R' album. How did that all come about?
Chew Fu: I got the opportunity to remix Rihanna's 'Russian Roulette,' which led to an opportunity to remix 'Hard,' which led to an opportunity to touch up 'Photographs' feat. Will.i.Am. To say the label was impressed with the work I did on those three mixes is an understatement, plus my remixes were outselling all others in the package. My remixes were brought to the attention of Island/Def Jam Chairman/hit-maker, L.A. Reid, who was forward thinking enough and believed in my abilities enough to have signed off on the idea of me remixing the entire album. That took some nuts for him to do that, shout-out to Mr. Reid. Remix albums are not uncommon, commercially released remix albums produced by one person are unprecedented. Personally, I think it is the way of the future, producers better get their game up though, being creative across an entire album has been known to bust a creative blood vessel. Not sure if most are ready.
TWU: You've worked with some very big names, but who would you say has been the best/easiest to work with and why?
Chew Fu: Wow, that's a tough one. I've worked with so many cats that are so talented and skilled, they can make any new producer sound like a seasoned vet, now that I got the ass-kissing out of the way I would have to say Doug E. Fresh, Wiley, and Fabolous. All the songs I have done with them have been one take and we're done. Word of advice; don't book a 4 hour session with these guys unless you got something to fill the remaining 3 hours and 45 mins. They are that good. On the remix time, I would have to give it to GaGa, Rihanna and Timbaland. I love working with them because they never gave me any guideline or rules, all they care about is that the outcome is fire. I love when people give me the freedom to interpret and rock out.
TWU: What other artists are you rating at the moment?
Chew Fu: J-Cast, A-Clay, Substantial, Lee Majors, The whole QN5 Fam, ToneDeff, mrSOS, Kokayi, ESTAW, Marvell, PVH, Wiley, Dizzee Rascal, Boy Better Know, Roll Deep, Chipmunk and MANN.
TWU: Okay, so what can we expect to see from Chew Fu for the rest of 2010 and beyond?
Chew Fu: Expect the unexpected for sure and don't rule out world domination [laughs]. Nah, seriously, 2010 is shaping up to be a crazy year for your boy. Aside from production and remixes for artists that "walk on water and talk to God" creatively like Stone Temple Pilots, Diddy's Dirty Money, Usher, Timbaland, GaGa and Gossip, be on the lookout for my own album, tentatively entitled 'Take That'. I also have plans to release a remix compilation series in the forms of several albums featuring recent remixes/refixes I have produced. I think we are really gonna surprise people with these projects.
Stay up to date with Chew Fu on MySpace and Twitter

Words and editing: Joseph 'JP' Patterson


Photography: Anna Marcella

Styling: Ms Fitz