DJ Cable is an award winning DMC Team Champion and also one of the most in-demand DJs in the UK at the moment. Throwing down his own mixes and mashing up everything from hip-hop through to dubstep in his DJ sets, this guy has got it on smash. Benjamin Hill had a quick catch up with him to talk about DJing, his views on the music scene at the moment and also how the US are trying taking over our beloved dubstep sound…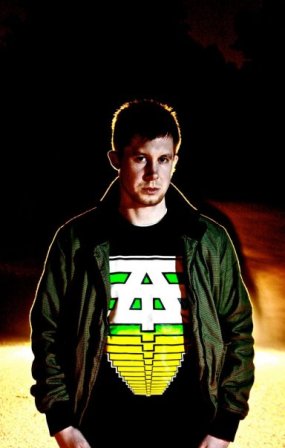 The Wrap Up: Firstly, can you give people that aren't aware of who you are just a bit of history as to what you do and your style as a DJ?
DJ Cable: I'm DJ Cable and I play music, make music, put out mixtapes, I blog, rant on Twitter and I play too many video games. I play a cross-genre mix of hip-hop, dubstep, grime, electronica and D&B. I've also won a bunch of awards too! My style is pretty upfront, I tend to use a lot of scratching and juggling within my sets, as well as homemade blends, re-edits and remixes.
TWU: You're a former UK DMC Team Champion, right? How did that feel being a part of that and more importantly, does it put any pressure on your DJ sets knowing people will see you as DMC Champion?
DJ Cable: It's always a great feeling to represent your country at something. I grew up watching the DMC videos, so being able to rep the UK has definitely been a highlight in my DJ career. Placing third in the world last year with Bionic Stylus, as well as third in the UK Finals back in 2007 was incredible; those are moments that I'll never forget. I only ever really get nervous when doing smaller clubs; the type of venues where it's full of heads that know what you're doing. You're under more pressure to be on point I suppose, but coming from that turntabalist background, I'm used to working and performing under pressure, so it's all good. However, I think some people still expect me to turn up and just do routines. I still try to incorporate those elements into my sets, but I'm really there to make people dance and enjoy themselves. I certainly wouldn't want to hear myself cut it up non-stop for two hours!
TWU: This year has been good for you so far, with doing a mix for Mistajam's show, playing countless grime and dubstep shows and winning the 2010 Urban Art Forms/Dogs On Acid DJ Competition, pretty good start to a year I say?
DJ Cable: Yeah, no doubt! Things are starting to pick up fairly well. Having the opportunity to do a mix for Mistajam was awesome; it was a good look to have that kind of exposure. It's also been dope to have been able to travel to places such as Sweden and Austria and do my thing. People have been really receptive to the idea of dubstep being mixed with southern hip-hop and grime, it's a great feeling. The DOA competition was a real surprise though. I've only got back into D&B over the past 12 months, so to enter something like that at the last minute and win was crazy. I said to myself that I wouldn't do any more battles or competitions other than DMC, but I still can't help myself, I love battling [laughs].
TWU: You obviously come from a hip-hop background, so how do you think it's doing at the moment?
DJ Cable: The hip-hop scene is great right now. The last year or so has seen some really good albums from the likes of Clipse, Tanya Morgan, Nas & Damien Marley, Method Man, Raekwon and Ghostface. Rick Ross has been pretty consistent this year, as has T.I. and there are also a load of independent artists doing a lot, such as Sean Price, plus some of the more instrumental-based glitchy stuff on All City from the likes of Dibiase and Samiyam, plus artists such as ediT, Eprom. Some of the half-step D&B that's being made is also dope. If you look past the urban/electro-pop nonsense that certain artists are making, you'll find a whole heap of good music.
TWU: Where are your favourite spots to play at the moment?
DJ Cable: The 'Goonies' rave in Birmingham is the first one that comes to mind. Those parties are fucking crazy; they're always hype! They've had literally everyone pass through from Tempz, to Roll Deep, P Money, Borgore, Jakes, Sukh Knight and more. The fact that Ian (Candyman) can pack out a rave just through word of mouth alone is a massive look, they're doing a lot right now. DJ Yasmin's 'Bad Intentions' and Tim & Barry's 'Just Jam' are also really good events too. 'Just Jam' is a great concept, a Ustream channel/club night/showcase in one. It's growing each week and the line-ups have been solid so far.
TWU: The DJ Cable blog seems to be doing well and covering a lot of information. Just how important is blogging and social media to you personally?
DJ Cable: You need to have strong online presence in this game. We're now in a digital age, so you're more or less expected to have some kind of blog, website, Facebook, YouTube or Twitter account. It's never been easier to build a fanbase and following using various online platforms and to get your mixtapes or music out there. Mixcloud is a really good tool to use. Being a good DJ or a producer is simply not enough. You need to build a brand name these days, something I suppose that people can identify with, buy into, follow etc.
TWU: Also the DJ Cable Podcast gets a lot of attention every month from bloggers and forums. Is it hard to compete with so many other podcasts and mixes coming out all the time?
DJ Cable: Yeah it can be a challenge, everyone is a DJ these days and everyone seems to be putting out free mixes all the time. Some are good and some are utter shit. I'm a perfectionist when it comes to making mixes; those who know me will know I spend a lot of time on them; obsessing over them, in fact. I get a lot of new music sent to me each month, so going through and picking out my favourite cuts, making sure they work well together and then structuring the mix is really time-consuming. I want to be able to put something out that people can listen to and enjoy for months to come; not just for one or two listens. A lot of DJs seem to bash out a mix quickly and upload it without taking the overall structure into consideration. I know it sounds cliché and played-out to say, but you're meant to take the listener on a journey, with various peaks and building points. I think the reason why the podcasts are doing pretty well is the fact I'm playing tracks which I personally feel are dope. I could put out a mix with all the latest top 40 commercial urban bangers, but there are a million and one mixes like that. I like to showcase everything from unsigned and independent artists, to B-sides and deeper cuts, club joints and more. The selection is really varied. My philosophy is that if it's good, I'll play it. I'm still trying to get the podcasts accepted on iTunes, which will hopefully increase the amount of listeners and subscribers. If anyone can help with that, please give me a shout.
TWU: Your 'Fuck Thugstep Vol. 1' mix for Rock The Dub and Ego Thieves got a huge response. What is it about that sound that you seem to love so much and for people who don't know about the sound, can you give a bit of background information on it?
DJ Cable: It's essentially dubstep with hip-hop and grime acapellas over it. I heard DJ Nappy's mix back in 2007 and loved how he added something extra to dubstep at the time. Coming from a hip-hop background and being a fan of southern hip-hop (as well as grime) in particular, I was inspired to put my own blends together. No one was really repping that sound over here, so I thought I'd fill the gap. I put a few blends out for fun, next minute I know; the Tempz and Rusko blend I put out is getting passed around the internet. To me, southern hip-hop, grime and dubstep all go together hand in hand, so it was kind of obvious to merge the sounds together. It's exciting to hear artists like Tempz or Three 6 Mafia spitting over a dubstep tune. It makes it more hype in my opinion.
TWU: So when will Vol. 2 be out?
DJ Cable: Hopefully within the next month or two. I've got a load of new blends ready to go, which I've already leaked online, but I'm waiting on some of exclusives to come through from a couple of artists. I've already got some new heat from Dream McLean, as well as the forthcoming Sukh Knight and P Money's 'Slang Like This' (I did the cuts for that tune), plus some new blends that you haven't heard before. Hopefully I can outdo the first mix. If I have the funds, I might even press up some CDs this time around.
TWU: Would you ever consider doing events? Maybe even a 'thugstep' event and invite over some of the US blood?
DJ Cable: I'm not really much of a promoter to be honest, I prefer to turn up, rock a crowd and get paid [laughs]. Also, I don't know if it's really that big a sub-genre to warrant its own night, but if the right promoters approached me, then yeah, maybe we could put something on. At the same time, I wouldn't want to go that route and be labelled as the 'thugstep' guy. It's just part of what I do; there are other DJs around the globe also doing their thing, such as DJ Hypnotikk from Atlanta. He's pretty dope!
TWU: Also, I wanted to know your thoughts on the American hip-hop scene getting in on dubstep, with artists such as Eve, Snoop Dogg, Rhianna and others doing tracks with the UK's brightest dubstep producers?
DJ Cable: It's nice to see that the US are taking influence from UK sounds right now. Rusko and Chase & Status are doing really well. I wasn't too hot on the 'Snoop Dogg Millionaire' track, mainly due to the fact that Snoop's flow and style was too lazy for that type of beat. It's funny though, as when Nappy put out his mix, some people hated on it. As soon as Snoop jumped on 'Eastern Jam," the same people were creaming their pants. Me and Khal from Rock The Dub were actually talking about dubstep/thugstep a while back, saying how we wanted to hear more MCs spitting over dubstep properly. A lot of grime artists have embraced it, P Money and Newham Generals in particular; some US cats are doing it well too, such as Elucid and Chali 2na. I'd love to hear what someone like Lil Jon would do with a dubstep tune. That'd be pretty mental. As long as it's good, I don't mind.
TWU: I noticed Rock The Dub posted something about the 'Eastern Jam' vocal that Snoop Dogg did, saying how DJ Nappy did those dubstep mixes back in 2007. Is that something underground DJs just have to get used to?
DJ Cable: It inevitably happens with every genre/subculture. In some ways its good, as it's opening up people's ears to dubstep. However, you also run the risk of it becoming just another musical bandwagon. Luckily, there are so many styles and producers constantly pushing the boundaries within dubstep that I don't think the scene will go that way. If you look at other genres such as D&B, it's been able to maintain a healthy scene, even with the odd commercial release.
TWU: Your own blends seem to be getting a lot of good reaction from the dubstep and hip-hop scenes. Any chance of a full release rather than just podcasts and mixtapes?
DJ Cable: I'll most likely put all the blends I've done into one big zip file and upload it for other DJs to use. I don't know if I could do a proper release of any sorts, mainly due to copyright issues, but I'll put something out soon.
TWU: UK urban music is doing very well at the moment, especially for grime and dubstep. Who is really standing out for you and is anyone we should keep a close on eye on?
DJ Cable: Too many to mention. You got MCs such as P Money, D Double E, Trilla, Tempz, Giggs, the StayFresh camp and this dude from my area, Dream McLean; he's turning a lot of heads right now. Producer-wise, I'm rating Teddy/Silencer, Rude Kid and S-X. The Thunderclaps also put out a nice EP recently and True Tiger never fail to disappoint either. Terror Danjah, Swindle, Starkey, Joker, Tomb Crew and Guido are all killing it right now too.
TWU: Is there any chance of your own productions coming out any time soon?
DJ Cable: I've already got a track out on digital release with Fused Forces called 'Jack Russell' (via Pesky Plates). I'm working with them at the moment on a few other bits and pieces; they're making some really good material right now. As soon as I'm happy with my own stuff, I'll put it out there, maybe a free EP, or a beat tape or something. I'm making a lot of different stuff, from dubstep, to grime riddims, instrumental hip-hop and random beats.
TWU: What are the plans for the rest of 2010?
DJ Cable: More bookings, more mixes and hopefully some more tunes. Apart from that, more blogging, writing for Hot110 and also defending my DMC Team title with Bionic Stylus this year. I've also recently helped set up another blog called The Urban Gamer, which focuses on urban music and video games. That's another area that I'm particularly interested in; we've got a few ideas in the pipeline. Also, promoters, if you're reading this, book me. I'll smash your rave to pieces.
Stay up to date with DJ Cable on Twitter - www.twitter.com/DJCable
Words: Benjamin Hill

Online editing: Joseph 'JP' Patterson