Tinchy Stryder recently came into the MTV HQ for the day and The Wrap Up managed to catch an exclusive chat with the chart-topping grime MC. In this interview Tinchy opens up about the people that claim he's sold out on grime, how he manages to stay grounded, future plans for Ruff Sqwad and much, much more...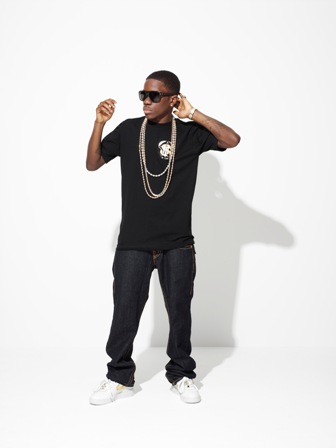 The Wrap Up: You've come a long way since I booked you for my ChockABlock rave in Northampton all those years ago. How has it been being a number one selling artist so far?
Tinchy Stryder: Yeah, I've come a long way from when I started man. I didn't really picture that this is where I would be now. Getting to number one was a crazy feeling and I never really stopped to take it in, but every now and again people remind me that I'm doing a lot and to stay focused. So yeah, I am proud of myself, it's a great feeling.
TWU: Your Star In The Hood clothing label has also gone on to do big things as well. Would you ever do a Kanye and collab with a big brand like Vuitton or Gucci?
Tinchy Stryder: Maybe, if it's right. His one seemed to work out for him because his sort of style matched what they were bringing to him, but I've seen some go wrong. So yeah, if it's right I definitely wouldn't mind trying something out.
TWU: You've achieved a lot, but what would you say has been your biggest achievement to date?
Tinchy Stryder: It's hard to pick, but I think I'd have to say the first number one I had for 'No1'.
TWU: You recently hooked up with Jay-Z on a deal, that's a mad one. How did that all come about?
Tinchy Stryder: Hooking up with Jay-Z was a crazy thing, it was a process where they basically came over here, liked what we were doing and started speaking to us. We went over there and had a few meetings, but it was more chilled, not a business sort of vibe, more of a get to know each other. Every time he came over I missed him because I was on tour and then every time my people went over there he was working, but we finally meet and he's a cool guy.
TWU: And what do you plan to do with that deal?
Tinchy Stryder: It's a joint venture deal with Roc Nation Takeover. He's brought his side, I bring my side and we come together and we just find new artists and give them opportunities and bring them out through the label.
TWU: You're switching up your musical style a bit and going for the rock type sound which you showcased with 'Gangsta'. What made you decide to go down that route? I know Fuda Guy loves his rock music…
Tinchy Stryder: With 'Gangsta' I didn't really feel it. When I heard the beat it wasn't one of the beats like, most of the time I would speak to the producer and say I want something like this. With 'Gangsta' I was in the studio and they were like, 'Tinch' we got something, you might like it TMF's the producer,' then they played the track and I was like, 'Yeah man this is me, where's my biro, where's my paper,' then I started writing to it, letting a few thing out. I never really thought that or think there was anything rocky about it, but I guess now you that you've said it I can hear that vibe. I just like to be creative in music man; I just go in the studio and make what I feel like.
TWU: Talking of Fuda Guy, are there any plans to bring out another Ruff Sqwad single or even an album in the near future? I know the grime fans are waiting for that to happen…
Tinchy Stryder: They're not going to wait much longer because we've been in the studio recently, obviously my time is a bit hectic, but the man dem are doing what they're doing man. They're going to get signed real soon. But it's never a rush, there are a lot of things going on, but we got this!
TWU: Do you still even class yourself as a grime MC?
Tinchy Stryder: When I first started it wasn't grime, it was garage and then it changed to grime and out of that I have been successful with my music which has led me to other avenues and to be more creative in music and trying new things. Now I've got the opportunity to work with different producers and not just grime producers and they make different styles, so I express myself differently. So I guess yeah, that's the scene I came from but there's a lot of people that do harder grime and when I was in grime we weren't doing it as hard as that, so maybe people wouldn't class me as that, but these people need to know who was there and how it started and how doors have been opened for a few people.
TWU: What would you tell the people that said you sold out on grime?
Tinchy Stryder: Yeah, I tell them I sold out albums, sold out tours, Star In The Hood clothing label sold like thousands. So yeah man I'm good, I'm nice!
TWU: Do you miss the 'Yeah, let me see ya gun fingers' days?
Tinchy Stryder: I say I miss it, but I don't at the same time. There's an area where it happened and those things happened for a reason. I always give examples in football, so like the World Cup, that's what happened then and that's why it's so great because it's like, 'Do you remember them days?' If it was to happen every day now, like every week you go to a rave and I'm saying 'Gun fingers' or 'Tings in boots' it wouldn't feel as special. I mean, some people are angry because they weren't involved in that world at that time, so when they talk we don't listen, because they weren't involved. I guess it was a key time and it was fun, it was fun and I do kind of like miss it, but at the same time I enjoy that it was a period where I can always hear back on and it's like memories man. I made history right there with all of that.
TWU: Who are you rating in the UK underground scene at the moment, anyone you'd like to work with?
Tinchy Stryder: In the underground scene right now, at the moment, there are people doing big things but I haven't heard anything where I've thought, 'Wow, that sounds like something crazy new.' Everyone I have heard sounds like there's already someone who they remind me of and they're not exciting me as much as the original version. But I guess there is someone; maybe I just haven't heard them yet.
TWU: You recently signed grime MC Maveric. What are your future plans for him?
Tinchy Stryder: It was a thing where I was on tour and I brought him along, it wasn't like, 'He's signed and this is Maverick coming out.' He is signed and has done quite a few EP's and a video and obviously I'm working on my career, but when Maverick's head is right and he's ready to come and do whatever, then we're here for him man.
TWU: So, what can fans expect from the new album?
Tinchy Stryder: Madness! It's like a progression. It's developed so much musically and lyrically, the whole sound is a bit more darker and a bit more personal, there are a few things I'm touching on, a few more personal situations and then at the same time it's got a good side to it. I've got some lyrics where I'm talking about how I used to go to raves and have to pay to get in and they would be like, 'You look too young.' Now I get paid to just come and stand in the corner, so it's a crazy like.
TWU: Why did you name it 'Third Strike'?
Tinchy Stryder: It's my third album I've recorded and I feel like this time it was all or nothing. It's like third strike and you're out, that's what it felt like when I came to record it. I'm at a stage where 'Catch 22' did so well and people might just be thinking that it was luck, or just hype, what's he going to come out with next, he can't have no more number ones on this and that the album can't sell much or sell out any more tours. There was a lot of pressure on me with this one...
TWU: What is a typical work day like for Tinchy Stryder?
Tinchy Stryder: A typical work day, none of the days are typical it's just different days. Some days I might be fully in the studio, some days I might have some TV stuff to do, interviews, photo-shoots and a performance at night. I put in mad hours, I had a day recently where I started at 10am-11 am and finished at 3am the following morning. It's more than a 9 to 5!
TWU: What would you say keeps you grounded?
Tinchy Stryder: My people that are close to me man, I've always been grounded, and I think it's how you're brought up. It's not easy to stay grounded, because you see and witness a lot of things and it depends how your mind is. Some people stay grounded and some people change. Some people I don't blame for changing, if you allow change, then you can't pretend like your life hasn't changed, you can't be the same. So either you're changing with me, or you're not, it's as simple as that. But being grounded is different from changing, you have to remember that and then respect yourself and respect people around you and how you bring yourself across. I naturally stay like that, if I was to change, someone needs to remind me.
TWU: What's the weirdest piece of fan mail you have read?
Tinchy Stryder: I come across a lot of different fans, when I can read fan mail I do. A lot of them are cool and showing love, people telling me, 'I like you,' 'I would leave my boyfriend for you.' One fan, a girl, wrote me a letter telling me if she had me for an hour or something, I would never walk again. I was like to myself, 'I want to walk man, I don't know what you're planning but I need to walk!' [Laughs].
TWU: What can we expect from Tinchy Stryder for the rest of 2010 and beyond?
Tinchy Stryder: Madness!
Tinchy Stryder: 'In My System' - is out August 9.
Stay up to date with Tinchy Stryder on Twitter - www.twitter.com/TinchyStryder
Words: Leanne Petersen and Joseph 'JP' Patterson

Online editing: Joseph 'JP' Patterson