The Wrap Up has an exclusive chat with one of the dubstep's most controversial producer/DJs, Borgore. Loved by thousands on his Facebook page and YouTube channel, he is also loathed by people who just don't understand the sound he is bringing to the bass table. Benjamin Hill speaks to the person and the musician that is, Borgore…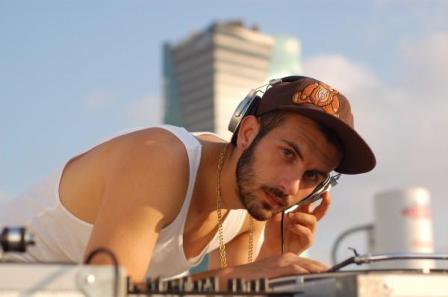 The Wrap Up: Hi Borgore! How are things today?
Borgore: Things couldn't be better at the moment really, I'm at home working on some new tunes and I've got nice weather too, everything is calm and there's no stress. My tour starts soon and then things are going to be a bit different for a while.
TWU: Firstly, can I just ask where the name Borgore comes from?
Borgore: It comes from Borger, which is my family name and then Gore comes from Death's album, 'Scream Bloody Gore'.
TWU: How did you get into making music? I know you used to play jazz and also drums in metal bands, right?
Borgore: Different people have different obsessions and mine is music, so I played various instruments along the years, mastered different genres and then got to the point that one sort of music is just not enough for me. Production let me have total freedom of doing whatever I want without any other band members to answer to. I can work on a 'Passion Pit' remix in the morning and a 'Bring Me The Horizon' remix in the evening just because both tunes are amazing.
TWU: Do you have any influences when it comes to making music?
Borgore: My problem is having too many influences. I'm the type of person that can't stick to one thing. I love urban bike riding, but skateboarding is so much fun right? But then again I used to sport climb every day and now I love my karate lessons. Music is the same thing. I wake up dying to hear this Doshy 'Scatter' tune that I just found, but the middle of it reminds me of a Wayne Shorter tune and when searching for it on itunes I see this Deftones tune that I haven't played for a long time and I have to play it. Now, try and cope with that on a daily basis (laughs).
TWU: When did you first hear dubstep and what made you want to make it?
Borgore: I heard it on a super left-wingish hipster bar in Tel Aviv. The DJ played a couple of Skream and Benga tracks on a horrible set of speakers. Now you tell me you hear Benga's 'Evolution' and you don't want to start making dubstep immediately?
TWU: You use the term 'gorestep' to describe your music, so what is it all about?
Borgore: I made this tune called 'Saturday Night' which the drum pattern goes triplets over time, it gives it a faster feeling but it's still 140 BPM and it doesn't sound like dubstep, but it isn't metal, so I just called it gorestep. I don't know how it is in the rest of the world, but we call death metal here 'gore'. Labeling music is nice for people who are new to a genre, but putting labels on music is pointless, especially today when boundaries between genres are long gone.
TWU: I just want to quickly ask about your label, Buygore. Are you looking to release anything by anyone else? Or is it just for your music at the moment?
Borgore: I'm looking to release other people's music too. The next release is from a duo called Document One and my favourite drumstep artist, Heist. Most of the future releases are not mine; it's a platform for me to keep pushing music that I love.
TWU: Also I have to mention your explicit lyrical content on your songs; you seem pretty tongue in cheek about the whole thing. What makes you want to write about the things you do?
Borgore: Blame Ludacris. He's probably my favourite rapper of all time.
TWU: Is it really you MCing on your tracks too?
Borgore: Can't you hear to horrible accent (laughs)?
TWU: You're heading on your world tour pretty soon; you must be excited for that?
Borgore: It's a bunch of mixed feelings. I'm super excited, but I just hope everything will go smoothly and that I won't miss home too much.
TWU: Any places where you would like to DJ but haven't done so yet?
Borgore: I keep playing the same place. I'm dying to play Japan for instance, or Scandinavia. I'm praying for peace one day, playing in my neighbor countries is my biggest dream.
TWU: Any key items you always have to take with on tour with you?
Borgore: It doesn't really matter what I'm taking with me, there's 75% chance I will lose or break it at one point. I've lost two Mac Pro's, lost an iPhone and ruined endless needles and vinyl's. This is why I had to switch to CDJs by the way.
TWU: Along with Rusko, you seem to have the whole dubstep scene divided on your music. So many people seem to be hating on you guys behind on a computer screen, so how do you deal with it?
Borgore: I don't know what's wrong with people nowadays. They don't hate an artists' music which is legitimate, they hate on them personally. Rusko is a good example, but the list is long. I guess it's the whole culture of Twitter and Facebook, where an artist is not an idle anymore, he is a person and you can reach him. At first it got me really dispersed, because I've never harmed anyone, but as time goes I just learn that the bigger you get, the more haters you going to have and it's not in your hands.
TWU: Europe generally seems to be obsessed with Borgore. It must be a nice feeling to be embraced by so many people though, right?
Borgore: It's an amazing feeling but it's a big responsibility, because every step you take, you're trying to not let your dedicated fans down. I just wish I could have spoken to each and every one of them and tell them how thankful I am for everything.
Catch the second part of this interview next week...
Stay up to date with Borgore on Twitter - www.twitter.com/Borgore
Words: Benjamin Hill

Online editing: Joseph 'JP' Patterson