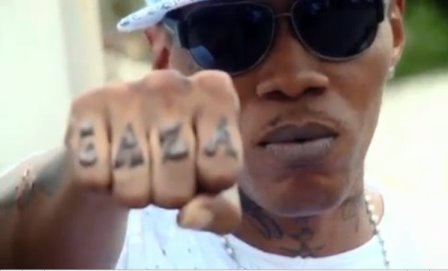 Vybz Kartel was a group comprised of three artists, including Adidja Palmer - then known as Addi Banton. The group split due to differences in vision, but Addi Banton kept the Vybz Kartel name, joined Bounty Killer's crew, Alliance, and the rest, as they say, is history. Initially coming to prominence flexing his lyrical skills in 2002, Kartel became one of the genre's leading artists shortly thereafter, which included featuring on the Def Jam US and Jamaica collaboration album, 'Def Jamaica', working with Missy Elliott and gaining fans in Nicki Minaj and Jay-Z.
Controversy has never been far, from clashing Ninja Man - which lead to a fight on stage -leaving the Alliance and then performing at his former mentor's biggest rival Beenie Man's wedding to Bounty Killer's ex-girlfriend, a tw-year on-and-off fued with Mavado, to being sued for creating the explicit 'Ramping Shop' hit from Ne-Yo's 'Miss Independent'.
In his first full-length interview with a UK journalist in over five years, Vybz Kartel speaks to The Wrap Up's Marvin Sparks about his early beginnings, writing for Bounty Killer, the infectious tribute to Clarks, working with Major Lazer on 'Pon Di Floor' and much more.
The Wrap Up: You broke through with a unique style of deejaying (rapping) to dancehall in 2001/2002. Tell us a bit about why you adopted that style...
Vybz Kartel: That style was a combination of listening to all genres of music when Vybz Kartel was growing up. Vybz Kartel always wanted to be different from the regular deejay and wanting to bring something different. In my effort to become different, that style was created.
TWU: Who were your influences back then?
Vybz Kartel: My influences were universal: Lt. (Lieutenant) Stitchie, Ninja Man, Papa San, Will Smith (back from Jazzy Jeff and Fresh Prince), KRS-One and Slick Rick. My musical influences were universal and multi-national.
TWU: You started off writing songs for Bounty Killer, so how did that come about and what songs did you write for him?
Vybz Kartel: I wrote about 30-odd songs in total. 'Gal Clown' and a lot of those war lyrics were by me.
TWU: You don't write your lyrics anymore, do you?
Vybz Kartel: No, I don't write lyrics anymore. I have graduated from that stage. I just meditate or pre-meditate the lyrics depending on if I get the riddim before I go into the studio, or when I go to the studio. I just voice the riddim and listen to the music. The music talks to me and I respond.
TWU: And your work ethic is probably better than any in dancehall, with the amount of songs you release...
Vybz Kartel: My work ethic comes from my father, because I've seen that man work seven days a week, so I get my work ethic from my father.
TWU: What work does your father do?
Vybz Kartel: He still works at the flour mill in Jamaica. Yeah man, seven days a week. I said to myself, 'I couldn't do that', but I guess I meant I couldn't do that with something I didn't like. But doing music, which is something that I live for, I put in that same work ethic.
TWU: One of, if not the biggest dancehall tunes this year has been 'Clarks'. Did that come as a surprise to you?
Vybz Kartel: Nah man, I don't get hits by, what we Jamaicans say, 'Buck up', or by accident. Everything Vybz Kartel does is precise and concise like a dictionary. You have to understand that Clarks (shoes) is a part of Jamaican culture; I grew up wearing Clarks, my father, my grandfather, my uncles, my friends, my enemies, rudeboys, policeman, doctors, and lawyers. Clarks is a part of Jamaican culture, so doing a song like 'Clarks', I knew it was going to be an instant hit. That's why I recorded the video two days after the song was recorded.
TWU: That song features fellow Portmore Empire members Vanessa Bling, now known as Gaza Slim, and Popcaan. Outside of Portmore Empire, who would you say you rate?
Vybz Kartel: To be honest, Vybz Kartel doesn't really say, 'I rate this artist' or 'I rate that artist.' I-Wayne is my artist that I listen to a lot. Otherwise, I just listen to Vybz Kartel music and try to better myself.
TWU: There have been many changes to the Portmore Empire, with the departure of a few artists, but you have built it back, arguably, stronger than before.
Vybz Kartel: Well they are doing extremely well because you have to remember, Portmore Empire, on the face of dancehall, is the only thing happening right now.
TWU: For those that don't know much about Portmore Empire, how would you describe what each member brings to the group?
Vybz Kartel: Well it's a variety: Popcaan is like a breath of fresh to dancehall music. His voice, his image, how he looks, how he acts – he's just different to what people expect from a regular dancehall act. Popcaan is Vybz Kartel's protégé. He is like Vybz Kartel, but what makes him different is that he isn't trying to be like me, which makes him his own artist and his own entity. The Empire is a breath of fresh air to dancehall music. Jah Vinci is the soulful one. Soulful meaning that he is a more grassroots act; he sings about social issues. Shawn Storm is the man that the ladies love for no apparent reason (laughs). Sheba and Gaza Slim are the females. Vybz Kartel is an artist that brings back the female artists; they stand alone because they're female artists making good music. The Empire is a well-rounded group.
TWU: Another big song for you that's in any and every DJs set, from hardcore dancehall, to house and pop, has been 'Pon Di Floor' by Major Lazer, which you feature on. How did that collaboration come about?
Vybz Kartel: I was approached by Major Lazer to do the song a few years ago. I think I recorded it about 2 years ago. He produced it in true production style, meaning he took the right parts of the song and put it in the right parts of the riddim and overall, the production was really strong.
TWU: So there were more lyrics than there is in the final version?
Vybz Kartel: Yes. I guess he picked out the most comprehendible parts of the lyrics, where the international fanbase and listenership is concerned. He picked out the most comprehendible parts of it, the most audible parts to someone who is not really a fan of dancehall, or cannot really understand deep patois. 'Ladies get in line/ Let me see your bestest whine.' He did a great job in producing it…
Catch part two of this exclusive interview next week!
Vybz Kartel's new album, 'Pon Di Gaza 2.0', is out now
Stay up to date with Vybz Kartel - www.twitter.com/IAmTheKartel
Words: Marvin Sparks