"Always absorbing so we can create," seems to be the motto of the free-spirited group, Sonnymoon. Anna Wise (vocals) and Dane Orr (producer) bridge the gap from Northern California and New York to fuse eclectic sounds in Boston, Massachuttes. Boston is known for its die-hard baseball fans, late boy groups like New Edition and New Kids On The Block, but Sonnymoon are about to bring a new wave of energy to the state...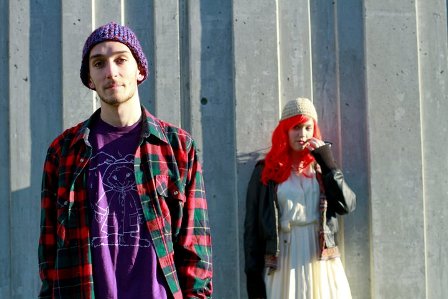 The Wrap Up: How did Sonnymoon come about?
Dane Orr: We moved into together because we knew a mutual friend who was looking for a roommate, so we didn't know each other before that. That was a year ago, and then we started making music immediately after that.
TWU: Coming from London, what do I need to know about Boston?
Dane Orr: Make sure you watch out for the bums, don't tick off Red Sox fans and check out Wally's. It's the oldest jazz club, but pretty much everyone from Berklee plays there.
TWU: As you said, Boston is well known for having die-hard Red Sox baseball fans, but describe the music scene there?
Dane Orr: It's really jam band heavy. There are a few music schools, so the average level of musicianship is incredibly high. Making everybody a super harsh critic.
Anna Wise: But we've had a lot of fun playing at house parties, seeing as it's a huge college town. That seems to the best scene that we've encountered in Boston.
TWU: With so many things to do in the world, what made you want to form a group and do music?
Anna Wise: When I sing, it's like the best feeling. With everything I do, I guess I'm a pleasure seeker. I feel the most excited and happy when I'm being creative and music was the answer. When I started songwriting, there was never a question that I wasn't going to be singing.
Dane Orr: My parents were always not necessarily musicians but always big fans of music. They were the 'cool' parents who were showing me and my friends' new and old music. They made sure I knew Stevie Wonder. I started playing the saxophone in 4th grade and it just started from there. If you have a plan B that's cool, but you're allowing yourself the option of failure. I think it's better to have a plan A, and go with it 100%.
TWU: Your mixtape, 'Golden Age', was presented as a gift on Christmas Day of 2009 and you also covered a song by Drake and made it your own. Tell us about that…
Anna Wise: It was our first project together, we just wanted to have a group of songs to give to people to show them who we were. We wanted to get gigs around Boston. It was something we did that we knew we had to do. Yes, we covered Drake's song, 'HoustaLantaVegas'. A lot of that comes from just being around and jamming. We have a cool apartment and we were just standing around messing around with music.
TWU: What song do you find that most people can identify with on 'Golden Age'?
Anna Wise: 'Runaway' is definitely the song! It's just about getting away, running away and letting go.
TWU: I know you talk about jamming a lot and your music truly reflects that, but describe your creative process of making music...
Dane Orr: From my half of it, I came in as a saxophone player, so I'm constantly learning new things as far as technology and production. So everything is kind of a new experience with our songs. There's no formula, just experimenting.
Anna Wise: With 'Golden Age', it just felt new and exciting. All the songs we've done, they've all happened in different ways. They can be either huge concepts, or macro pieces. But we try to do it as much as possible. Having your work ethic is just half of it.
TWU: As a group, what is Sonnymoon's ultimate goal in the making music?
Dane Orr: That's a tough question. Like today, I was sitting in history class and the teacher was discussing Freud and sexual repression. He said, 'You music students can channel that into something you can't experience into music.' So I thought about it, we shoot for musical experiences that you can't get physically.
Anna Wise: I feel like I'm a listener, just as much as I am a performer. Writing lyrics to a song can make you click and you can agree with it. I want to communicate with people and ignite some sort of light in them that was there, but just wasn't turned on.
TWU: Being new to the scene, I'm sure you've had some crazy experiences. Off the top of your head, take us back to your most interesting one.
Dane Orr: Just recently, a cool thing that happened for Anna. I was having technical difficulties and we were the last people to go on. It was like 12:30 and Anna just started having a sing-along with the crowd singing, 'HoustaLantaVegas'. It turned out pretty cool though.
TWU: Between going to school, dealing with teachers and life itself, what keeps you motivated?
Anna Wise: Definitely listening to new music and learning new things, whether it be musical or not. If I just feel like I don't want to make music, I just listen to music and do something after that. It's really nice when people compliment us too!
TWU: What are you working on now?
Anna Wise: We contributed a song to the Prefix Magazine mixtape called, 'Doctor Doctor'. That's not on 'Golden Age'. The next thing we'll put out is going to be an EP or another full album. We're definitely moving forward, talking to labels, but we can't say too much more. I have a huge passion for doing covers of songs too, so we're working on doing a compilation of covers. Of course graduating in the spring is on the top of the list. Oh yeah, we did the Brooklyn Hip Hop Festival as well.
TWU: Your music provides a lot of different sounds, but who are some of your influences?
Anna Wise: Our influences come from everywhere. My favourites are The Beatles, Animal Collective and The Roots.
Dane Orr: I like jazz cats, like John Coltrane, Herbie Hancock, Michael Jackson, Stevie Wonder, J Dilla, Jay-Z and people not afraid of being themselves.
TWU: Speaking of favourites, what is your favourite song at this very moment?
Anna Wise: Right now, Animal Collective's 'The Purple Bottle'.
Dane Orr: Mine is 'The Day' by Currensy, Jay Electronica and Mos Def.
TWU: Where do you see yourselves five years from now?
Dane Orr: Not having a day job and making money off of touring and just making music, that's the plan!
TWU: Anything else you want to tell the world?
Dane Orr: Keep an eye out for us, because we have a lot coming up.
Stay up to date with Sonnymoon on Twitter – www.twitter.com/Sonnymoonmusic
Words: Tatiana R. Johnson

Online editing: Joseph 'JP' Patterson