After 6 long years away, The Planets return with a new EP called, 'PLANET ROC'. Seven cuts of straight, raw hip-hop, Nate [Itstheleak] gets hold of The Planets for a chat about the EP, their musical influences and their thoughts on the UK hip-hop scene...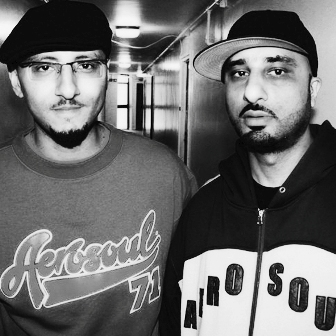 The Wrap Up: You've been away for a long time, so what was the cause for the hiatus and what was the inspiration to come back with this EP?
Nomadic Poet: The group stopped releasing material around 2004, but I was always active in the scene, dropping a solo album and constantly working on new material behind the scenes. Ayman had other commitments, so he decided to fall back from the music and focus on more important things at the time.
Ayman Raze: Our come back was largely down to gENSu dEAn. He's putting out a solo LP and the opportunity came up for myself and Nomad to record a track together for it. It was just supposed to be a one-off, but you know; when you have that vibe and create something special, it's hard to stop. This EP was an opportunity to work with a group of great artists as a little taster to let people know we are back before the gENSu dEAn LP, 'Deenology', drops early next year.
TWU: You've been around for a while, and for those who might just get to know you from this project, how would you sum up yourselves as a group?
Nomadic Poet: We would say it's hard to pin it on one thing, because we are pretty diverse and can deliver a wide style or feel. If I was pushed, I would say that we are true school futuristic. What I mean by that is we take what has been done in the past and bring it up to date. Our message is a social political introspective and spiritual one and we always try and keep it raw with the skills. At the same time, we know that this is entertainment so keeping it all in perspective.

TWU: How did you end up working with Roc Marciano?
Nomadic Poet: I was working on a solo project with my main man gENSu dEAn, who is our producer. I decided that I only wanted one special feature. So I got in contact with Roc, as I was a big fan of his work. We did a track called '12 Jewels', which came out crazy. From then on, Roc and I built a relationship. He respected my craft, so it was all love.
Ayman Raze: Roc is a real humble brother and you know he's sincere. He's truly setting trends right now and I can see 2011 being his year. A lot of people are just hearing about him, so it was good for us to catch him before he really blew.
TWU: Did you approach him, or was it something that just came about organically?
Nomadic Poet: It basically came about organically. The tracks on the EP were originally part of a solo project that I was working on with Roc, but as the crew decided to reform, we came together and remade them.
Ayman Raze: We kept this project as concept free as possible. It was really all about displaying your skills on some straight hip-hop tip.
TWU: The EP has a vintage and raw sound, but would you ever think to deviate from that style? Or will the album stick to this very rugged vibe?
Nomadic Poet: Let me say, this album is definitely on a next level: the beats, diversity and flows are nuts. I would say its more up-tempo, lyrical concepts are crazy. The production is once again true school futuristic. It has the feel of the golden age, but definitely sounds very modern and updated. All the production is handled by gENSu dEAn and you can quote me on this, one of the illest cats on the planet. It's raw, soulful, funky, emotional and hard, all in one.
Ayman Raze: Every project we do, we always change the style up. I think that's one of our strengths, we can adapt to whichever beat we have and make it work. So we don't sound strange on a Roc beat or a gENSu beat. I'm really excited about this album and the hip hop heads are gonna love it.
TWU: What's your favourite track from 'Planet Roc'?
Ayman Raze: The track where I enjoyed the whole writing process the most; was 'Planet Roc', plus it's got Scorzayzee on it. He's someone that I've admired for a long time and I'm glad we got him on there.
Nomadic Poet: Wow! That's hard for me. I really like all the tracks for different reasons. I would probably go with 'Flames' overall, it has that dark sinister vibe and the rhymes are hard-body.
TWU: I think 'Somewhere Else' is fantastic. The flows and delivery really do it for me…
Ayman Raze: Glad you like it. That was actually the last track to get done. Nomad had that beat hidden away and just sent it to me one day. That flow was just called for on a beat like that, but if you listen carefully, it's actually a positive, conscious message that I'm giving. We don't make gangsta music, but can flip the stereotypes and produce something positive.

TWU: You're very much influenced by Islam and spirituality. What would your response be if some people were to accuse you of being preachy?
Nomadic Poet: Hip-hop has always been about talking about your own individual experience and to quote a cliché, 'Keep it real.' Obviously, who we are as people and individuals will reflect in our music. Our purpose is not to preach to people but to make thought-provoking, dope music that will make people think outside the box. Bottom line, we feel we always make high calibre music that people can feel musically, regardless of any boundaries.
Ayman Raze: If I grew up in Alaska, I'd be talking about killing seals and building igloos. Being Muslim is what I am, I'm not going to hide it or run from it. If some people have a problem with that, then that's not my issue. Press stop on the tape; delete the MP3, it's up to you. We're not hardcore extremists, but self-knowledge and Hip Hop go hand-in-hand. Islam is all about self-knowledge, understanding where you're from and where you're going. It's no wonder that a lot of well- known MCs look to Islam for their spiritual inspiration.

TWU: You originally came out in 1999, so how has the UK rap scene evolved and changed since?
Ayman Raze: There are some really talented artists here, but for me, there's too much politics and a lot of it sounds the same. Too often over here it's about trying to sound the hardest or whatever, but that's only one element. How many ways can you say that you're gonna kill someone? The grime scene has actually done a lot for UK MCs as a whole and I can see the two scenes merging together to create a sort of grime-hop. It's a good thing that we're finally seeing MCs in the charts and getting signed to majors in the US, even though it's for strictly commercial, pop tracks.
TWU: You mention paying homage to those who came before, in regards to MCs forgetting their roots. Who would you say had a profound influence on your style and hip-hop message?
Nomadic Poet: Me personally, I was influenced by people like Rakim, KRS-One, Big Daddy Kane, Kool G Rap, Pharoahe Monch, Ras Kass and all the pioneers of this culture.
Ayman Raze: The legends. We all know who they are and I'm talking before BIG or Tupac. One of my earliest UK hip-hop memories was a 12" by Merlin called, 'Drop The Weapon'. So shout out Merlin, wherever you are!
TWU: Who are you rating from the UK hip hop scene?
Nomadic Poet: Anyone who is pushing the boundaries of lyricism and content and uplifting the youth who are our responsibility and future.
Ayman Raze: Scorzayzee, Scor Zay Zee and Scorz.
TWU: What would you like to see more of?
Ayman Raze: Organisation. Too often people use hip-hop like it's a way to make a little bit of change but don't understand the power that it has. We need to use it to make huge positive changes. We as artists need to give back more, stop being stingy with your talents and use whatever you have to highlight and talk about serious issues.
Stay up to date with The Planets on Twitter – www.twitter.com/nomadicpoet72
Words: Nate [Itstheleak]

Online editing: Joseph 'JP' Patterson