Lupe Fiasco may have been absent from the music scene over the last few years, but the rapper is back with new his new LP, 'Lasers'. MTV's Joanne Dorken had to find out from the man himself what his latest release is all about, who he has his eye on for his next collaboration and whether Child Rebel Soldiers, with Pharrell Williams and Kanye West, will ever see the light of day…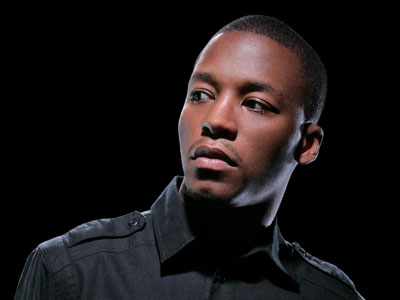 The Wrap Up: Hi Lupe! Firstly, let's talk about the name of your album, 'Lasers'. Why did you decide to give it that name?
Lupe Fiasco: It stands for, 'Love Always Shines Every time Remember to Smile'.
TWU: That's quite a complex title in the end then?
Lupe Fiasco: I don't think so; I don't think that's very complex. I mean, that's what it stands for - that's why I called it 'Lasers'.
TWU: There were a lot of delays bringing 'Lasers' out; there was even a fan campaign on the internet to persuade the record label to release it. Did you find these delays frustrating?
Lupe Fiasco: Yes, very frustrated.
TWU: The album includes some collaborations (Trey Songz, Skylar Grey, John Legend, Eric Turner, Sway) but what was it like working with these different artists?
Lupe Fiasco: It was cool; I worked with Trey Songz before. John Legend was actually something that the label brought to the table, but I've known him for a while - it wasn't even like we worked together, it was like, 'Here's the song, okay.' Skylar Grey was the same thing; it was something that came with Alex Da Kid. We were trying to work together for years and when he sent the record it already had Skylar Grey on it, so I was like, 'OK, I'll take that,' but the record is really good. Trey was the only feature other than MDMA and Matt Mahafi that actually was like, 'Yo, we wanna do the record' and was pre-fabricated.
TWU: Skylar's worked with Eminem and Dre on the new track, 'I Need A Doctor'. Are you a fan of that song?
Lupe Fiasco: I've only heard it once. I'm completely out the box because I knew her as Holly Brook, so when I saw her I was like, 'Who's Skylar Grey?' And people were like, 'Oh, that's Holly Brook' and she's on the Dr.Dre record. She did a song with Puff Daddy as well.
TWU: Is there anybody else out there that you wanted to work with or would like to work with in the future?
Lupe Fiasco: Tom Yorke and Damian Marley.
TWU: What sort of track could you see yourself making with those guys?
Lupe Fiasco: With Damian Marley, probably something very revolutionary. And with Tom Yorke, not anything that's too progressive, one that's normal. He's known for doing a bunch of crazy stuff so it would be cool if he did something regular.
TWU: You've recently appeared on tracks with Chris Brown and B.o.B, so can we expect to see you appearing on anyone else's tracks in the near future?
Lupe Fiasco: I don't know. I've done something for Travis Barker's album, which should be coming out pretty soon, and that's it. The features come when the album drops and then everybody gets excited.
TWU: The first single from 'Lasers' was 'The Show Goes On' and features a Modest Mouse sample. Were you a fan of the band?
Lupe Fiasco: I was a fan of the record, but I forgot about the record because it came out in like 2004 and when I heard the sample it wasn't connecting with me. Then everyone was like, 'Yo, it's Modest Mouse' and I didn't really know. Then I heard the song again and I was like, 'Ah, I like that song' and then everyone wanted to clear the sample and like the management were super good and the fans etc.
TWU: You've been described as a very versatile rapper, but is this something that came naturally or did you have to work on this?
Lupe Fiasco: I don't have to work on it. I'm naturally a writer. The rapping and writing, they can go hand-in-hand - but rapping is an art that you have to practice and master, so I worked at it for a long time…
TWU: Your last album, 'The Cool', had a story running through it. What are the main themes of your new album?
Lupe Fiasco: It really doesn't have a storyline, whereas 'The Cool' was a concept album and this is more just a collection of songs that share some of the same tones, which is basically just positivity and consciousness. Some of the records are controversial, but it's less cohesive than 'The Cool'.
TWU: There are many hot rappers coming through the ranks, but who are you tipping for success?
Lupe Fiasco: I don't know; it's hard to roll the dice.
TWU: What do you think about the general direction hip-hop has moved into in the last 5 years? Do you think it had evolved?
Lupe Fiasco: I don't know, because hip-hop has always been something experimental. It's always been progressive, so it may just be another cycle coming around, or maybe the beats are better, but are they actually creating new music? In some instances no, they're doing the same stuff and people are jumping on the same bandwagon as opposed to some people making new things. The only person who really impressed me with making new music is Cudi. Everyone else seems to be jumping on the same music, the producer-made stuff, but the one person that's made new music to me is Cudi.
TWU: Now that you have finished your album are you planning to revisit Child Rebel Soldiers? Have you spoken to the other artists about it?
Lupe Fiasco: I don't know. It's between me and Kanye and Pharrell and finding the time to get everybody in the studio to actually work on it. But I can't say because I'm only 33% of it, everybody else has to get on the same page.
Words: Joanne Dorken (@Miss_LilJo)

Online editing: Joseph 'JP' Patterson (@Jpizzledizzle)