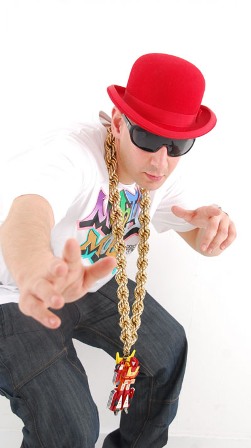 Being a founding member of the legendary Heartless Crew, formed after meeting MC Bushkin and DJ Fonti through mutual school friends, Mighty Moe has been a consistent member on the underground circuit and a prominent name since 1998. Heartless Crew caused a major storm with their twice-weekly radio show on pirate radio station, Mission FM, becoming named a favourite DJ/host cartel to many...
Going on to hold many events - starting off with under 18's event 'Krispy Biscuit' in north London and then moving on to a weekly event for the more mature audience in Chimes, east London - Heartless Crew built up a following of dedicated ravers and listeners, and they eventually grew large enough to be taken across shores to countries including Ayia Napa, Germany and Amsterdam.
As time continued, Mighty Moe enjoyed working alongside a number of respected personalities in the music industry, including Pay As You Go, So Solid, Sticky, Ms Dynamite and EZ, to name but a few. Eventually, to the dismay of many members of circuit (DJs, producers, ravers etc.), the Heartless Crew movement came to an end and Mighty Moe set upon a new journey.
"It was heartbreaking for all of us," Mighty Moe told me. "Big up all the fans that raved with us and supported our music and our vibe over the years. It's nothing but love. Out to Bushkin and Fonti, those guys are my brothers. We came up in this music thing together, but as it is right now, we're just giving each other some space and branching off individually."
Mighty Moe has continued to collaborate with many other members of the urban music scene, including Zed Bias, Todd Edwards, Benga, FunkyStepz and close friend Smasher - who Mighty Moe has worked closely with on a number of projects over the years - whilst still feeding the club circuit with his presence on the microphone up and down the UK on a weekly basis.
"I've known Smasher for a long time, through the Heartless Crew. He was in a crew called Knights Of The Round Table and they used to roll with us, as one of the members was Bushkin's cousin. We just kept the link and as he started to make beats, we just got on a vibe together."
Smasher's production features heavily on Mighty Moe's recent mixtape, 'Yaggo Yo', which has been getting good feedback among the masses and features a mixture of genres currently heard on the underground music scene.
As an individual, Mighty Moe has earned a great reputation of being a humble personality on the scene, something that is a contributing factor to the level of respect shown towards him from various members in the scene. Mighty Moe feels that it is down to just having the right attitude. Hear-hear!
"Know your worth. Still value yourself, but still be humble..."
Stay up to date with Mighty Moe on Twitter - www.twitter.com/MetricMoses
Words: Makeda Wilson (@MakedaQoS)

Online editing: Joseph 'JP' Patterson (@Jpizzledizzle)