WWE: 5 Superb Cesaro GIFs That Don't Even Begin To Illustrate How Incredible He Is
Tuesday, July 14, 2015 - 15:19
Cesaro may very well be WWE's most accomplished performer right now. He is chuffing amazing, a Swiss superman indeed.
And once again on last night's Raw, even with Brock Lesnar knocking seven bells out of anyone that came anywhere near him and NXT stars Sasha Banks, Charlotte and Becky Lynch looking amazing on their introduction to the main roster, he still stole the show.
How? Here's how, in GIF form.
Rusev doesn't like it up(ppercut) him
Dive! Dive! Dive!
Yeah, I ordered the triple suplex with extra heave? Cheers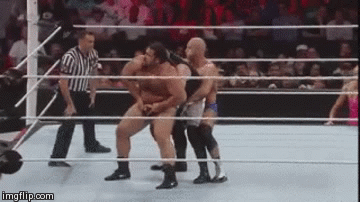 Slap happy
Crowd go wild for the Sharpshooter!
Not that we like to break a match down into constituent elements without any appreciate for flow or context but... look at the execution! 
And those stunning moves above don't even include more ace suplexes, a big swing, more uppercuts, another crazy dive over the top ropes to the outside and... well, we could go on forever.
And when it comes to Cesaro, we probably will!