WWE Hell In A Cell 2015: 6 Brutal GIFs!
Monday, October 26, 2015 - 15:21
For anyone in doubt about how flipping brutal Hell in a Cell matches are, have a squint at the state of Brock Lesnar's bonce after his violent encounter with the Undertaker last night.
The Beast required nine staples to close up the gash in his nut - but despite the injury, there's no disputing that their match was a bloody good brawl. Pun intended.
But Brock and 'Taker weren't the only stars rumbling in the Cell structure in Los Angeles. Roman Reigns and Bray Wyatt had a few scores to settle in their long-running feud within the confines of the mega-cage, too.
Check out some of the most spectacular moments from both matches by scrolling through the GIFs below.
Roman takes a quick trip up and then down through a table at ringside -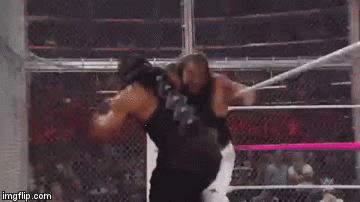 They went through a lot of tables in this match - 
A lot of tables. Roman later finished off Bray with yet another spear - 
Brock pounds on 'Taker, UFC style - 
And also with a chair, which isn't UFC style -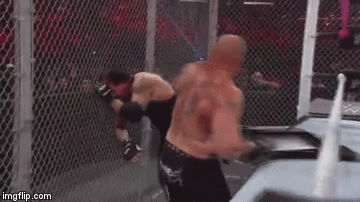 The Dead Man did chokeslam Brock, but it wasn't enough to see off his bitter foe - 
Click here for the match results from WWE Hell in a Cell 2015