WWE Money In The Bank 2015 Results: Dean Ambrose Downed By Seth Rollins
Monday, June 15, 2015 - 09:01
Seth Rollins proved he could do it on his own as he outlasted former Shield partner Dean Ambrose and retain his WWE World Heavyweight championship in a main event ladder match.
Ambrose sustained an absolute shellacking - including being powerbombed onto a pile of chairs and a ladder - before finding himself trading blows with Rollins at the top of the ladder during the bout's closing moments.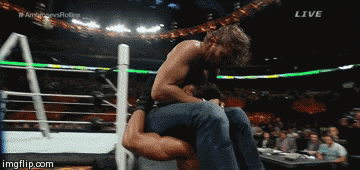 But Rollins was able to keep his clutches on the belt Ambrose had pinched off him and go some way to proving to Triple H that he is 'the future of WWE'.
Elsewhere, John Cena ended up being laid out by rival Kevin Owens, despite evening the score after his loss at Elimination Chamber, after Owens responded to the US champ's offer of a handshake by smashing him with a powerbomb onto the ring apron.
It was a bad night for the New Day. Not only did Kofi Kingston fail to get the win in the opening contest of the night but his partners Big E and Xavier Woods also lost the group's tag team championship to the Prime Time Players after Titus O'Neill pinned Woods.
And Sheamus claimed the Money in the Bank briefcase after it seemed the victory belonged to Roman Reigns. Reigns was in a seemingly unbeatable position when Bray Wyatt turned up and toppled over the ladder bearing Reigns atop of it. Sheamus then repelled a last ditch challenge from Neville, sticking his fingers into the eyes of the Geordie and wrenching at his hair, before grabbing the case.
WWE Money in the Bank results from Columbus, Ohio:
Kick Off: R Truth beat King Barrett with a crucifix
Sheamus won the Money in the Bank match
Nikki Bella retained her Divas title against Paige with a forearm and a Rack Attack. Moments earlier, Paige had cradled Brie for the pin after the twins swapped places
Big Show got a DQ win over Intercontinental champ Ryback after Miz jumped Show
John Cena finished off Kevin Owens with a springboard stunner and an Attitude Adjustment. Owens powerbombed Cena onto the ring apron after the US champion offered to shake hands
The Prime Time Players beat the New Day to become the new tag champs
Seth Rollins remained WWE World Heavyweight champion after winning the ladder match main event against Dean Ambrose