WWE Raw Results: Brock Lesnar Is Back... And He's After Seth Rollins
Tuesday, June 16, 2015 - 09:24
If you haven't seen WWE Raw yet and don't want to know what happened... well, get off the internet, nimrods. And stop searching for WWE articles.
However, should you wish to know how the show from the Quicken Loans Arena in Columbus, Ohio went down, results and vids are after the jump...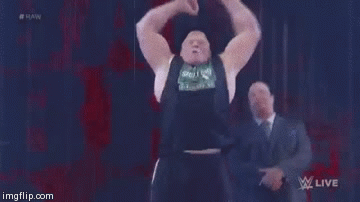 So yes, a certain Beast made his return to Raw for the first time since his suspenseion the night after Wrestlemania. And he wants a piece of WWE World Heavyweight champ Seth Rollins.
Sorry Dean Ambrose, looks like you're heading straight to the back of the line of challengers...
In non-Brock developments, Kevin Owens continued his march to becoming the most reviled man on the roster - and took out rapper Machine Gun Kelly with a powerbomb. Those two statements are not necessarily linked.
WWE Raw results:
– Raw began with Seth Rollins boasting about previous night's victory over Dean Ambrose, who came out to attack the fleeing champ and insisted he wouldn't shift until he got a piece of his rival
Dean Ambrose rolled up Sheamus, distracted by Randy Orton
R-Truth pinned Wade Barrett, also with a roll up
Kevin Owens defeated Dolph Ziggler with a pop-up power bomb after issuing an open challenge
Kane knocked off Randy Orton after Sheamus interfered and smashed Orton with a Brogue Kick after Kane changed his own bout to a No Holds Barred match
Miz beat Big Show by countout as Show argued with Ryback at ringside
- Bray Wyatt delivered a chilling threat to Roman Reigns as he explained why he interrupted the Money in the Bank match
The Bellas finished off Paige with a Rack Attack
– Machine Gun Kelly was powerbombed by Kevin Owens after the NXT champ antagonised the rapper with a slow clap
Neville and the Prime Time Players beat The New Day
– The Authority introduced Brock Lesnar and Paul Heyman as a fresh challenge for Seth Rollins