WWE Raw Results: Undertaker And Brock Lesnar Is ON For SummerSlam!
Tuesday, July 21, 2015 - 10:32
If you haven't seen WWE Raw yet and don't want to know what happened... well, get off the internet, you jobber. And stop searching for WWE articles.
However, should you wish to know how the show from the Sprint Center in Kansas City, Missouri went down, results and vids are after the jump...
WWE Raw Results:
The Undertaker conceded his Wrestlemania streak was destined to be broken - but would not accept the gloating of Brock Lesnar and Paul Heyman over his loss, setting up the main event of SummerSlam 
Charlotte submitted Brie Bella with the Figure-Eight Leglock 
Triple H was seen talking backstage on the phone with Heyman, insisting Lesnar be kept away from the building
Los Matadores upset the Prime Time Players when Titus O'Neil was distracted by New Day
Big Show pinned Miz with a big elbow drop from the second turnbuckle
Lesnar and 'Taker had a crazy brawl after Heyman accepted the SummerSlam match on Brock's behalf and was interrupted by the Deadman, which brought the Beast out to the ring for a titanic scrap. Triple H ordered the locker room to separate the two rivals and preserve the main event of SummerSlam - but both Lesnar and 'Taker managed to evade being held down and continued to battle backstage before Lesnar was eventually cuffed by security and escorted out of the arena
Roman Reigns beat Luke Harper by DQ following interference from Bray Wyatt. Dean Ambrose was on hand to help out his former Shield pal
– After crowing over how he managed to leave Battleground with his title, Seth Rollins exchanged words with John Cena. A fight was teased, but Rollins ducked out of the ring
Sasha Banks and Naomi got the victory over Paige and Becky Lynch when NXT Women's champ tapped out Paige with the Banks Statement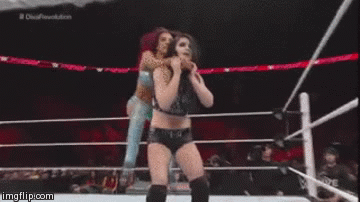 Cesaro, John Cena and Randy Orton defeated Rusev, Sheamus and Kevin Owens when Rusev, abandoned by his partners, absorbed all of his opponents' finishing moves