6 Reasons Why NXT's Carmella Has All The Moves, And You Can't Teach That
Wednesday, July 1, 2015 - 11:31
Enzo Amore, Big Cass and Carmella - three of our favourite performers in NXT - come as a package at this stage of their career. And there's so charismatic, they are proof enough that the vibe at NXT is very much that of family, and that of everyone moving together as a team.
Their intro is already awesome and is guaranteed to get the NXT faithful on their feet and chanting along with their words probably not seen since the glory days of The Rock's and Stone Cold Steve Austin's crowd work.
And it gets better every darned time, due - in no small part - to the physical vibrancy Carmella brings to the group.
Having seen her post a short clip on Instagram of her getting her dancing shoes on for the first time "in years", we thought it high time we got the gifs out to demonstrate why she has all the moves... even before she locks up!
Her twirl is on point:
Working it: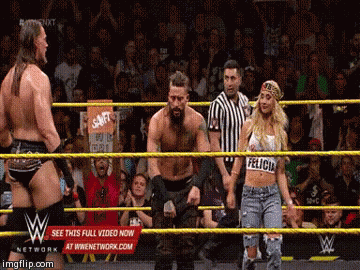 Kissy kissy:
The 'Woohoo!':
Tough as nails:
That kind of charisma...? Well, you can't teach that!